EDIT: In the end I decided not to buy Neris….u_u
————————————
Hello!
I would like to adopt a new daughter this year, DD Neris from Shining Hearts ! Nia and Sakura want a new onee-san too :D
To get a bit of cash to help with the adoption…I would like to sell 2 figures. Appart from helping me with the new daughter adoption, I will also donate 10% of the sales to Red Cross to help japan tsunami victims (see post below).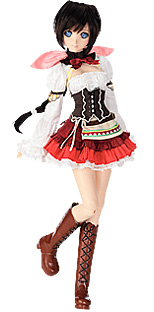 A few months ago, I ordered this figures 2 times by mistake on different websites, so I eneded up with 2 brand new and unopened:
Nendoroid Azusa from K-On (SOLD), and
Black Rock Shooter animation version, (SOLD)
both from Good Smile Company.
I would like to sell them with the original price + standard shipping from my country.
If anyone is interested, please don't hesitate to send me a mail through any of the social networks I use, or by mail.
Thanks a lot!